Today, I'm thrilled to welcome Ryan Krueger to the "Strategy Behind the Fund" series to review his MBOX ETF strategy.
It's better known as the Freedom Day Dividend ETF.
As a quick teaser, it's an actively managed high-quality dividend equity optimization strategy.
Without further ado, let's turn things over to Ryan!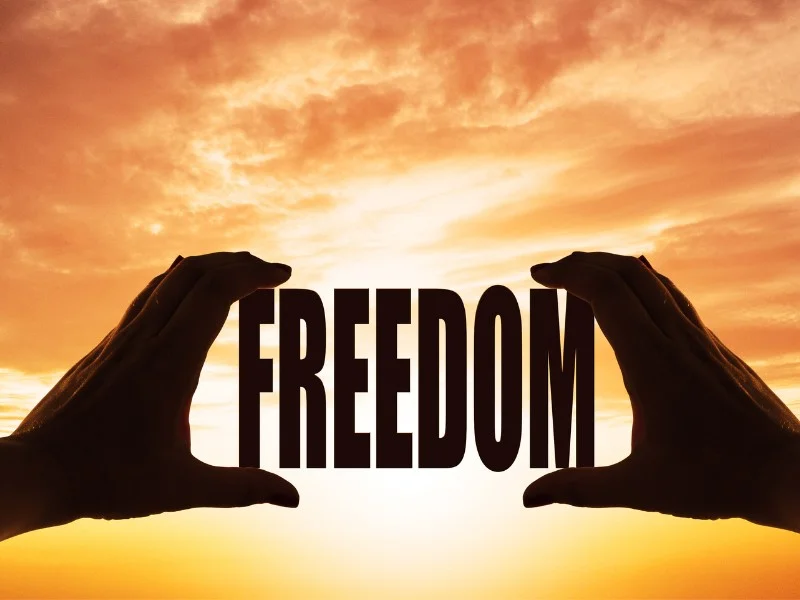 Reviewing The Strategy Behind MBOX ETF (Freedom Day Dividend ETF)
Hey guys! Here is the part where I mention I'm a travel content creator! This "The Strategy Behind The Fund" interview is entirely for entertainment purposes only. There could be considerable errors in the data I gathered. This is not financial advice. Do your own due diligence and research. Consult with a financial advisor.
Meet Ryan Krueger
I began my career at Smith Barney in 1996 in the private client division, building separately managed accounts. We kept it very simple, there was a tax-free bond account, and an actively managed stock portfolio. I loved my time there, and learned so much. Smith Barney later became Citigroup, where I became a Senior Portfolio Manager. I felt lucky for the chance to work really hard at an amazing organization serving clients around the world.
However, my best compounding lessons were carefully studying all of the complicated Wall Street products that clients really didn't need. I had no idea at the beginning of my career, that simplicity would prove to be the Holy Grail for investors, who I wanted to treat as partners not customers. I didn't agree with the direction that large bank/brokerage firms were taking, which later led to their credit crisis. So, I voted with my feet and escaped in 2006 to launch our own investment management and planning firm, completely independent of all confusion and conflicts.
We still use that same original investment playbook, which has now been battle-tested by every market cycle. We've built a truly unique firm all around it, to customize "Freedom Day" plans alongside personal and ongoing advice, around every turn down the road. Every family we are blessed to work for knows where 100% of my own money is, right next to theirs. Our skin is in the game in every way and they are treated as family.
What's The Strategy Of MBOX ETF?
Q1) For those who aren't necessarily familiar with a "quality rising dividend" style of asset allocation, let's first define what it is and then explain this strategy in practice by giving some clear examples.
A high-quality dividend means a consistent payment from free cash flow, supported by a great balance sheet. For us that also means it must come from a business whose operating strength is accelerating even faster than the dividend pay raises it shares with stakeholders.
Our research over 25 years leads us to believe rising dividends are the best opinion-free clue of improvement – in a business, and for a stakeholder.
Currently, here is our more specific way to answer your question with objective math.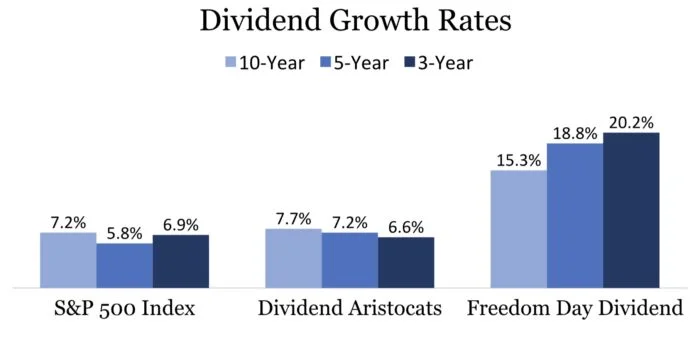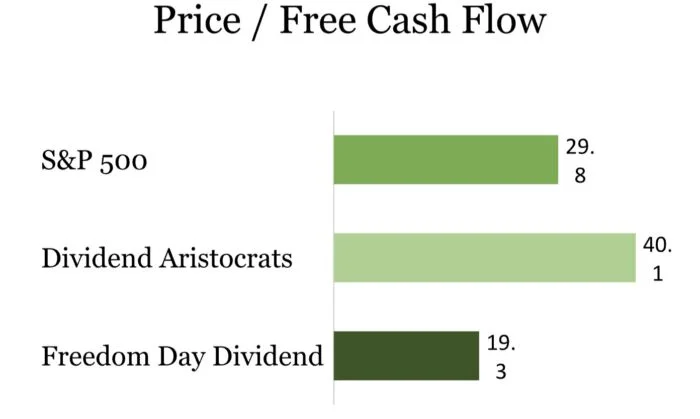 Unique Features Of Freedom Day Dividend Fund MBOX ETF
Q2) Let's go over all the unique features your fund offers so investors can better understand it.
What key exposure does it offer?
Is it static or dynamic in nature?
Is it active or passive?
Is it leveraged or not? Is it a rules-based strategy or does it involve some discretionary inputs?
How about its fee structure?
It is an actively managed fund of dividend growth stocks. Since all market pricing is dynamic, the odds for investor success can dramatically change even for the exact same businesses. At the same time, prices may not move for a business with remarkable improvement. Alternatively, the market price may not reflect a business that is eroding, or worse. To me, active management is not a choice, it is a requirement. For all these reasons, I actually think sell disciplines are the single best reasons for active management, even before considering any of the upside that can be found.
We built a quantitative scoring system that measures every stock, ranking them across dozens of variables. The key to our selection process is then re-measuring the direction of those inputs. A stock with "good fundamentals" may be priced accurately as such. I want to find improvement instead. A lower growth rate that is accelerating is more interesting than a high growth rate that is slowing. We carefully examine each.
A key to active management is humility. No position is sacred, they must compete against a bullpen of exceptional opportunities ready to take their roster spot.
Roster construction is critically important. This should never be about buying a list of stocks or funds, or about what an investor or a portfolio manager likes. I have zero predictions about what should happen next. I have a profound respect for what IS happening, and math makes that quite clear, leaving no room for opinions including our own. We are completely diversified and balanced across sectors, size, and style – yet in a concentrated portfolio of no more than 50 stocks, the optimal roster size we determined after years of due diligence.

source: Excess Returns on YouTube
What Sets MBOX ETF Apart From Other Equity Funds?
Q3) How does your fund set itself apart from other "equity funds" being offered in what is already a crowded marketplace?
What makes it unique?
Almost every fund category is already too crowded. Many categories shouldn't even exist. When I started as a portfolio manager in the late 90s, funds were supposed to help make the Stock Market smaller for people. Now there are more funds than stocks, and they're popping out like Gremlins. So, the last thing in the world I wanted to do was create another product.
No investor needs another growth or income fund. I would not have entered this arena, to launch a fund against global fund distribution giants – that makes David vs. Goliath look like an even match up – if there was not a big problem to solve. I am willing to bet my career on the biggest question investors will have over the next 30 years is not more growth or income it will be how to achieve growth OF income.

source: Excess Returns on YouTube
What Else Was Considered For MBOX ETF?
Q4) What's something that you carefully considered adding to your fund that ultimately didn't make it past the chopping board?
What made you decide not to include it?
A lot! Thousands of stocks, every single day, to be precise. Our selection process does all the careful consideration for us, and then again tomorrow. We stick to the math, which leaves no room for opinions including our own. An emotionless quantitative approach closes the door for any hard decisions to distract us. What I have seen hurt even the most brilliant money managers is how hard it is to let go of years of research on a particular company. Or even worse, if a position you know very well goes down in price, most money managers will continue to average-down their cost basis, convinced they are right.
I love relying on a repeatable selection system that discovers not what I think should happen, but what IS happening. Then we stick to strict sell disciplines when we are wrong, opening the door for objectively superior fundamentals to replace losings positions.
When Will MBOX ETF Perform At Its Best/Worst?
Q5) Let's explore when your fund/strategy has performed at its best and worst historically or theoretically in backtests.
What types of market conditions or other scenarios are most favourable for this particular strategy?
On the other hand, when can investors expect this strategy to potentially struggle?
There have been plenty of short periods of time where crowds of investors will prefer to chase price appreciation from popular themes that emerge. Understandably, new innovation will be exciting to the point it's often profitless innovation that will attract capital sending share prices soaring, and boring dividend stocks will underperform.
However, history has been pretty clear that boring is beautiful when those dividends are being raised consistently. I'll objectively share a conservative answer to your question that includes zero active management quality criteria, or sell disciplines – both of which can add considerably to these results hiding in plain sight for any investors who no longer want to be distracted by short-term themes. Significant outperformance can find them instead.
Why Should Investors Consider Freedom Day Dividend Fund MBOX ETF?
Q6) If we're assuming that an industry standard portfolio for most investors is one aligned towards low cost beta exposure to global equities and bonds, why should investors consider your fund/strategy?
I've learned the Holy Grail is deeply informed simplicity that consistently works, not sophisticated, confusing and expensive models with different layers of fees. The cost of doing business is an incredibly important detail for any investor.
I can explain anything inside our wealthiest families accounts to my 5th grader. The only beta he's ever heard of is in his fish bowl. Having spent the first half of my career on Wall Street inside the belly of the beast of expensive confusion, I would humbly share that they may be confusing by design, to justify their higher fees and illusion of wizards behind the curtain that investors need. Investors really only have two questions that matter – am I going to be okay, how much is enough?

source: 7investing on YouTube
How Does MBOX ETF Fit Into A Portfolio At Large?
Q7) Let's examine how your fund/strategy integrates into a portfolio at large.
Is it meant to be a total portfolio solution, core holding or satellite diversifier?
What are some best case usage scenarios ranging from high to low conviction allocations?
Great question that I think can be carefully answered in many different ways by advisors or by investors doing this on their own. By itself, our dividend growth strategy is extremely well balanced to potentially offer one simple stock account if somebody chose to knock out many birds with one stone. Here is our current balance across all sectors, sizes, and styles:
But the way to better answer your question, is exactly where all of my own money is invested. It's not a recommendation, but it's my favorite honest answer to the best question any investor should ask any advisor or portfolio manager. My friend Brian Portnoy captured this wonderfully in the book "How I Invest My Money" that I was delighted to write a chapter for.
Morningstar has the objective data that is more compelling than any prediction, showing a consistent source of outperformance clues can be found from portfolio manager with their own skin in the game – how much do they own of their own fund. Investors would be shocked to learn how rare that ownership is. For me, this account is the largest portion of my nest egg.
I also own tax-free municipal bonds. Between AAA-rated insured bond interest income + rising dividends, I will put those two simple accounts up against the most complicated allocations across dozens of funds and take my chances. And, I'll be taking less risk, paying far less in fees, and be able to see it all transparently with complete liquidity. After those two accounts provide all the free cash flow any investor of any size might one day need to arrive at "Freedom Day" where inflows exceed outflows, then he or she can afford to speculate wildly with whatever is left over. Real estate, private equity, farmland, or any other alternative investment that may interest them. I believe in all of them in small portions. The advantage that simple balance of Safe and Sacred, before Speculative money offers – is never again will there be any scared money.

source: 7investing on YouTube
The Cons of MBOX ETF
Q8) What's the biggest point of constructive criticism you've received about your fund since it has launched?
"Ryan, you have no marketing department or distribution network."
And that's correct. I'm focused on making sure the portfolio is working, for those who trust us to do for them as we do for ourselves.
The Pros of MBOX ETF
Q9) On the other hand, what have others praised about your fund?
Same answer.

Connect With Freedom Day Solutions
Q10) We'll finish things off with an open-ended question.
Is there anything that we haven't covered yet that you'd like to mention about your fund/strategy?
If not, what are some other current projects that you're working on that investors can follow in the coming weeks/months?
You asked great questions, and I'm honored by the interest you have and grateful for the desire to share any part of our little story and playbook that I dearly love working on. The best way to follow along with what we're doing is sign up for our Partners & Friends e-mail at freedomdaysolutions.com. Everything we do is an open-book project so we can continue to learn ourselves also, by surrounding ourselves with brilliant people who like sharing and living in this world of abundant opportunities for all of us. I have learned it really is a shockingly small and beautiful world IF we want it to be.
Thanks so much for taking part in the "The Strategy Behind The Fund" series!
How can others connect with you on social media and other platforms that you run?
@RyanKruegerROI on Twitter.
Nomadic Samuel Final Thoughts
I want to personally thank Ryan Krueger for taking the time to participate in the "The Strategy Behind The Fund" series by contributing thoughtful answers to all of the questions!
If you've read this article and would like to have your fund featured, feel free to reach out to nomadicsamuel at gmail dot com. 
That's all I've got!
Ciao for now!